Core Facilities & Services
Cytogenetic Service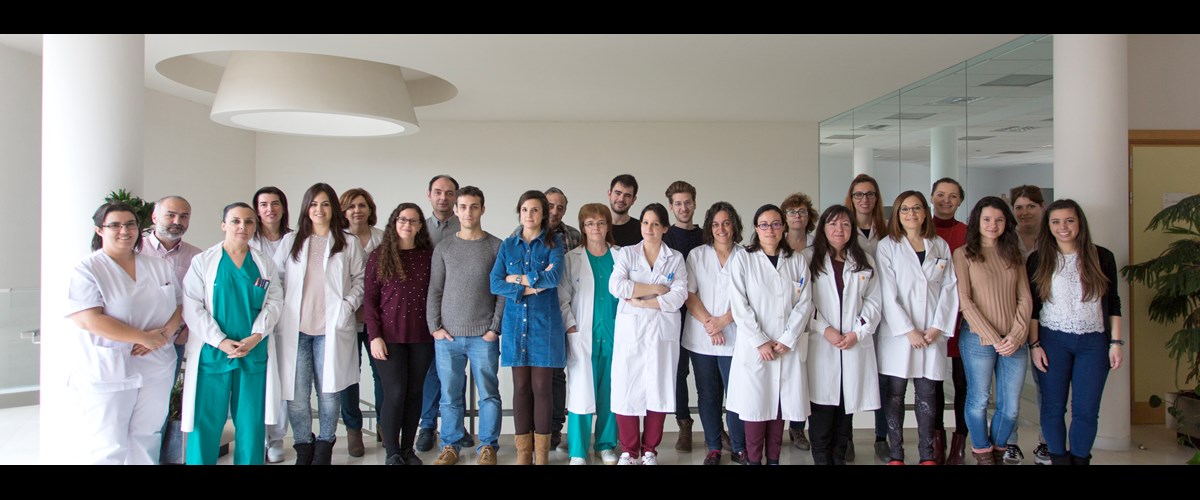 Scientific Coordinator
Jesús María Hernández Rivas
+34 923 294 812
Molecular Cytogenetic Service
Centro de Investigación del Cáncer (CSIC-USAL).
Campus Universitario Miguel de Unamuno s/n E-37007 Salamanca (Spain)
Personnel
No information is available
---
The Molecular Cytogenetic Service (MCU) is a facility devoted to the karyotypic analysis, fluorescence «in situ» hybridization, comparative genomic hybridization, microarrays and next generation sequencing of cancer patients. More than 100 hospitals in Spain, and occasionally others from the EU, have used the MCU services.
The Unit collaborates with the most relevant groups in the treatment of the hematological malignancies such as Pethema, GEL-TAMO, GEM or GETH providing technical support and characterization of the genetic abnormalities in the patients included in clinical trials.
In addition, the MCU is involved in several international projects related such as oncNGS with aim at developing an integrated solution for predictive, prognostic and diagnostic analysis in liquid biopsies of solid tumours (including appropriate haematological indications) based on Next Generation sequencing (NGS) technology; HARMONY, which through the use of Big Data will help improve the care of patients with hematologic malignancies; SYNTHERAPY, which aim is to develop a machine learning-based model to predict personalized treatment and to identify novel therapeutic strategies based on synthetic lethality approach for relapsed or refractory acute leukemia patients by using multilayer analysis of omics data, including RNASeq, Copy Number Alterations by SNP array and DNA targeted NGS)
In this Facility we provide complete services for:
Bone Marrow Cytogenetic: leukemia, lymphoma and myeloma.

Peripheral blood cytogenetic: leukemia, lymphoma and myeloma.

Lymph node and spleen cytogenetics: lymphoma.

Solid tumour cytogenetics.

Centromeric «in situ» hybridization: FISH performed with centromeric probes to analyse numerical abnormalities.

Painting «in situ» hybridization: FISH performed with libraries of DNA to analyse structural abnormalities.

Loci specific «in situ» hybridizations: FISH performed with probes to analyse either losses or gains of genetic material or fusion genes.

Genomic microarrays highest resolution gene-level. Genotyping, methylation, transcriptomics and pharmacogenomics assays. High quality and Formalin Fixed Paraffin Embedded (FFPE) samples.

Next generation sequencing to analyses genetic alterations by flexible and scalable methodology for target regions, genes, individual exons or hot spots. Available disease-focused panels (custom and commercial), fusion gene panels and RNA seq.

High-Depth next-generation sequencing for somatic variant detection.

Germline variant detection by next-generation sequencing in key genes involved in severe congenital coagulation bleeding disorders.

DNA/RNA shearing service for NGS.

Ultra–sensitive droplet digital PCR for detecting low prevalence somatic mutations.

Absolute quantification of gene expression and alternatively spliced transcripts with digital PCR.

DNA and Protein Liquid Biopsy
Equipment
Full authomatised system for karyotyping and FISH (Cytovision) with 3 analysis stations.

Full authomatised system for karyotyping and FISH (Metasystems) including a karyotype finder with 3 analysis stations.

Microbeads-based system for cellular isolation (Miltenyi).

Microscopes of light and fluorescence.

Veriti 96W Thermal Cycler.

Pyrosequencer (Pyromark Q24, Qiagen).

Affymetrix GeneChip® Instrument System: Hybridization Oven 646/Fluidics Station 450 and GeneChip® Scanner 3000 7G.

Droplet Digital PCR QX200 system (Bio–Rad Laboratories, Hercules, CA, USA).

Bioanalyzer for fragment analysis: 4200 Tapestation system (Agilent technologies Santa Clara, CA).

Covaris M220 Focused Ultrasonicator (Covaris, Woburn, MA, USA).

Next-generation sequencing facilities (Illumina), MiSeq sequencer.