Molecular basis of the response to chemotherapy and radiotherapy in head and neck cancer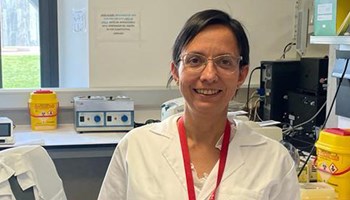 Mónica Álvarez Fernández
Instituto de Investigación Sanitaria del Principado de Asturias (ISPA)/ Instituto Universitario de Oncología del Principado de Asturias (IUOPA)
---
Head and neck squamous cell carcinomas (HNSCCs) arise from epithelial cells in the oral cavity, pharynx or larynx. Despite latest advances in cancer therapy, the survival rate for these tumours have only increased marginally, with about 50% of patients dying of the disease. Chemotherapy (CT) and/or radiotherapy (RT) remains as the standard of care for advanced HNSCC, but it is estimated that about 30-40% of patients do not respond to chemoradiation (CRT) therapies. By using several unbiased and targeted approaches, we aim to characterize the molecular mechanisms underlying radiation and/or cisplatin resistance, in order to identify new therapeutic strategies, and biomarkers that can predict response to treatment in these tumours.
Through expression studies in patient tissue samples, we have identified the cell cycle kinase MASTL as a potential biomarker of response to radiotherapy, but not chemotherapy, in pharyngeal tumours. We are also evaluating the therapeutic value of targeting the cell cycle CyclinD-CDK4/6-RB pathway for the treatment of HNSCC. Treatment of HNSCC cells with cisplatin or ionizing radiation followed by CDK4/6 inhibitors improves the antiproliferative effect of cisplatin/radiotherapy alone. This effect correlates with an increased level of DNA damage, and the accumulation of the cytosolic DNA sensor cGAS in micronuclei, suggesting an increased activation of the cGAS-STING pathway.
Moreover, to validate those potential new therapeutic strategies, we have generated a 'living' biobank of HNSCC patient-derived organoid (PDOs) models. PDOs recapitulate the histological features of the tumour of origin in terms of morphology and squamous differentiation. Importantly, they show differential responses to radiation and cisplatin treatment. Therefore, they constitute a powerful platform not only to study the biology of these tumours, but also to evaluate and predict treatment response in HNSCC patients.