Activation-induced expression of non-muscle myosin IIB shapes lymphocyte polarity and the immune synapse and T cell activation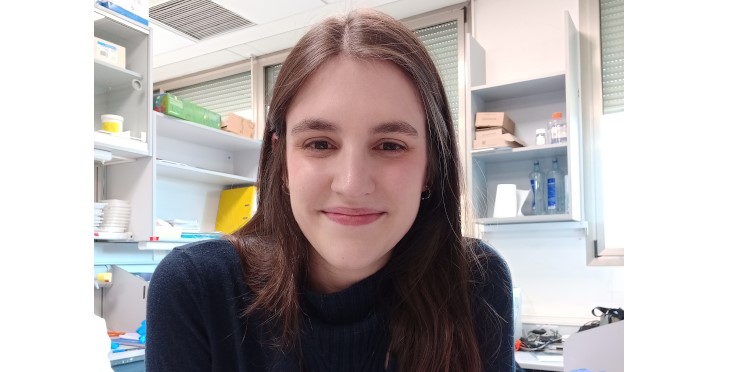 María Millán
Centro de Investigación del Cáncer (CIC-IBMCC)
---
Aim
We aimed to assess the function of non-muscle myosin II-A (NMII-A) and -B (NMII-B) paralogs in the mechanosensitive machinery that controls polarity, migration and activation in human T cells.
Methods
We have used siRNA approaches in leukemic T cell lines (J77) and lentiviral infection in human primary CD4+ T cells from healthy donors were performed for NMII-A and -B depletion. Control and depleted-T cells were prepared for adhesion assays on fibronectin and migration on Boyden chambers. Activation models of antigenic stimulation were performed with leukemic B cell lines (Raji) as antigen presenting cells (APCs) for J77 cells and with monocyte derived dendritic cells (DCs) from healthy donors for primary CD4+ T cells, both previously charged with SEE and SEB.
Results
NMII-A is robustly expressed in resting human T cells, whereas NMII-B is expressed mildly and its expression is activation-dependent, increasing its levels in response to interleukin 2 (IL-2). NMII-B-depleted primary CD4+ T cells lose front-back migratory polarity and chemotaxis towards CXCL12. In addition, NMII-B-depleted human primary CD4+ T cells and leukemic T cells decrease contact inhibition of protrusion as they interact with the surface of the APC, generating over-extended T: APC interfaces with an abnormal localization of the components of the supramolecular activation clusters. These defects, due to unconstrained actin polymerization at the edge of the T: APC interface, decrease T cell activation markers and proliferation.
Conclusions
These results position NMII-B as a novel effector that mediates the efficient activation and increased polarity and motility of effector T cells.